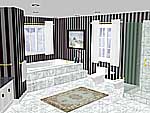 First, we start with the site plan determining the maximum buildable limits of your lot. Then we establish the natural good points and bad points inherent to the property and the ideal locale/orientation of your new custom luxury home upon it. Things to consider might include the traverse of the sun, sight lines to and from the neighbors homes, natural topographical contour of the land, existing trees and vegetation, obstructions of natural light by your home and neighboring homes (this concern has been incorporated into at least one north shore communities' zoning ordinances), need for backyard privacy and room for possible future expansion, etc.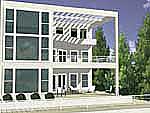 The above list of considerations is mostly subjective, however, and must be streamlined to fit an ever increasingly restrictive slew of zoning ordinances (the objective part) including F.A.R. (floor area ratio), I.S.R. (impervious or impermeable surface ratio), front, rear, and side yard setbacks, top of foundation height restrictions, possible subdivision building covenants and/or deed restrictions, access to public road guidelines, etc., etc... These zoning ordinances and restrictions vary city by city as do the B.O.C.A. based residential building code regulations that each city has adopted dictating which construction materials and techniques are allowed. The real trick and artistry to site planning is satisfying the objective requirements of the city without compromising the aesthetic integrity and practical requirements of the homeowner in realizing the vision for their new custom luxury home.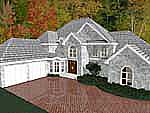 After a satisfactory site location and orientation have been established, design on your dream home begins. This order can also be reversed as in the situation where the client wants to design a new custom home without a specific location in mind. This process works great when the final lot purchased for construction is large enough to accommodate the new custom home design without significant restriction. Most of the lots on the north shore and surrounding suburbs, however, are of a size that will probably dictate at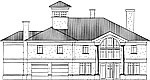 least some of the major design elements of your new home. In either case, we will listen to your ideas and goals and work together to develop the ideal plan for your dream home and gracefully harmonize it with the land you choose to build on.


Since every home is as unique as the people who live in it, we work with a diverse group of highly skilled and seasoned architects whose collective styles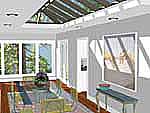 include traditional, georgian, colonial, french country and french provincial, tudor, prairie style, contemporary, classical, whimsical, craftsman and everything in between. Working together with you and Macnon's expert designers, architects, and planners, we form a team for whom nothing is impossible.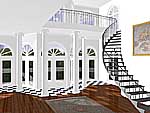 After you have committed the vision of your dream home to blueprint, the task at hand is building it to the exacting detail that separates your custom dream home from anyone else's. No one is better suited to that task than Macnon Builders. We will build your custom luxury home using state-of-the-art building practices and materials in the most timely and efficient manner possible.